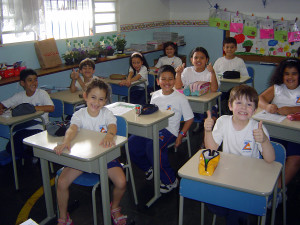 So you want to send a treat to school for your child's birthday but because of food allergies in the classroom you are only allowed to send store-bought items that are gluten, nut, & egg free… this seems a little overwhelming and unrealistic, right?
Amazingly enough, there are several options readily available to you.  Our list is not only free of these 3 allergens, but the rest of the top 8 food allergens responsible for 90% of food allergies today as well:
Non-Edible Party Favors: Why does a treat have to be edible?  Kids love little party favors and there are a variety of choices available, even at your local dollar store.
Fresh or Individually Packaged Fruit & Fruit Cups: Just swing by the produce section at your local grocery store and pick up a tray of pre-sliced fruit or get apple slices in their own individual packages.  You can also find individually packaged fruit cups and applesauce, but remember to check the labels on these.
Enjoy Life Candy Bars: If your child insists on chocolate, Enjoy Life makes candy bars free of all of the top 8 allergens and gluten.  You will most likely find these on the gluten free aisle of your grocery store or at a health food store.
Enjoy Life Cookies:  Also on the gluten free aisle are a variety of soft or hard cookies from Enjoy Life.
Cybele's Free to Eat Cookies:  These cookies are new on the market and may not be available at your local grocery store, but keep an eye out on the gluten-free aisle.  You'll see them soon!
Fruit Snacks: There are a variety of companies that make fruit snacks naturally free of the top 8 food allergens and gluten, but check the label to be sure.
Fruit Leathers: There are a variety of fruit leathers available and some are even sugar free, which is great if there are any diabetic children in the class.  Double check the label on these products for allergen warnings.
Marshmallows: Most marshmallows are naturally free of gluten and the top 8 allergens, and now they come in variety of fun flavors and shapes.  Double-check the label on each package, however.  Some varieties may contain eggs.
Skittles
Starburst Candies and Mini Starburst Candies
Starburst Jelly Beans

Lifesavers Gummies
Dots
Mike & Ike's
Hot Tamales
Sweedish Fish
Sour Patch Kids
Good & Fruity Candies
Haribo Gold Bears
Peeps (not all shapes are safe, so double-check the label on these)
Jolly Rancher Hard Candies or Candy Sticks
Warheads Super Sour Spray, Double Drops, & Sour Dippers
Bazooka Ring Pops, Push Pops, and Ring Pop Gummies
Candy Jewlery by Galerie (candy bracelet, bracelet w/pendant, necklace w/pendant)
Smarties (giant smarties, candy money, smarties in a pouch, smarties pops & lollies, candy necklaces, and more)
Find even more ideas on our Top 8 Free Pinterest pages: Candy, Snacks, More!
Because companies can change their ingredients or processing procedures at any time, remember to double-check the label for allergen warnings.  Current law requires all products regulated by the FDA to state if their product contains any of the top 8 allergens.  Presence of gluten or potential of cross-contamination warnings are NOT required, but most of these companies will volunteer if their product is "gluten free" or processed in a facility containing any of these allergens, so check for these additional statements as well.
Every food allergic child's level of sensitivity and needs are different. While providing a treat from this list does not guarantee every child will be able to enjoy it, your chances of providing something for everyone are far greater than sending in homemade cookies or cupcakes.  If you want to make sure all children in the classroom can be included, sending a non-food item or checking with your child's teacher about specific dietary needs in the class is best, but in any case NEVER offer a child food that you did not specifically clear with their parent or approved caretaker first.
Now if you're a crafty type of mom, you can probably think of a whole bunch of ways take these treats to fun and creative new levels but if you're not and just want to look like you are, go ahead and subscribe to our site or join our social network and we'll keep posting new ideas on how to share these fun treats with your child's school classmates and friends.
Are you a teacher, friend, or neighbor of a child with food allergies?  Check out our posts for non-allergic people affected by food allergies here!