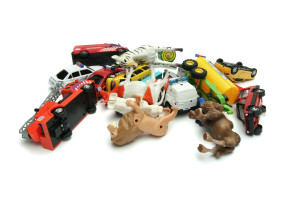 Everyone loves to bring treats to school on their birthday to help make the day a little more special!  But a treat doesn't always have to be something you eat.  Instead of bringing food or candy for your class this year, head to your local party store and pick out a toy or party favor the other students will enjoy.
Here's why:
1.  Other Food Allergies: As a kid with a food allergy, you know how much it means to you when someone else brings a treat for the class you can have!  Other students in your class may have food allergies, but not the same as yours.  So even if you bring something that is safe for you, it may not be safe for everyone else in the class.  Toys are safe for everyone.
2.  Spotlight Yourself: Head to your local party store or search online for party favors that represent something you love.  When you pass out these toys to the class, you can tell them how it represents you and let your classmates get to know you a little better on your birthday.
3.  Toys Last Longer:  Often times, food treats don't even make it home before they are eaten and gone.  If you give your classmates a small toy, they can play with it for days, weeks, or months and remember you when they do!
For more tips, activities, and resources for kids, click here. Then subscribe to our site and join our social network so you don't miss anything new!