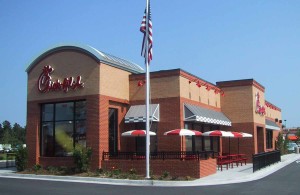 I've heard different opinions from food allergy families about Chick-fil-A and the peanut oil they use to cook a lot of their food.  My son has a life-threatening peanut allergy and I was cautioned by other food allergy parents to avoid Chick-fil-A at all costs due to peanut allergens in the air that could send my son into anaphylactic shock.
But I felt prompted to do my own research and I'm so glad I did because Chick-fil-A has quickly become one or our absolute favorite places to eat out and these are the reasons why:
1. Grilled Nuggets
Have you ever wished you could pull up at a drive through window and order chicken nuggets for your child without the breading?  At Chick-fil-A you can and they taste good too!  The chicken they use is fresh, cooked on a dedicated grill, and only pepper is used to season them.  At a lot of places, even a plain chicken breast has been smothered with a butter glaze or pre-packaged in preservatives containing potential food allergens.  At Chick-fil-A, I don't have to worry about that stuff because they've designed this menu item with special diets in mind. Update: Chick-fil-A now uses a seasoning blend containing soy on their grilled chicken products.  Since they still prepare the chicken fresh on site, you can ask them to make your order with pepper only… just remember to ask them to change their gloves and use foil on the grill to avoid cross-contact.
2. Safe Waffle Fries & Hashbrowns

Again, many restaurants cook their fries in the same fryer as other food containing potential food allergens but at Chick-fil-A, the oh so delicious waffle fries and hashbrowns are cooked in a dedicated fryer using canola oil, so there is plenty of peace of mind that these are safe for my son to eat.
3. Cross-Contact Training
Chick-fil-A takes food allergies and special diets seriously, which is why each and every member of their staff is trained to handle food in a way that prevents cross contact.
4. Cleanliness
At my local Chick-fil-A, everything is kept very clean so I feel comfortable letting my kids play in the play area or use the restroom while we are there.
5. Friendliness
I don't think I have ever visited my local Chick-fil-A where the staff didn't have sincere smiles on their faces.  They are almost too friendly at my local Chick-fil-A, but that is ok for me because that tells me that management treats the employees well enough that they all love their jobs, which is another clue to me that these employees will be motivated to take their training seriously and follow cross-contamination policies, giving me even more peace of mind.
6. Pampering
It's wonderful to visit a fast food facility and feel pampered, especially when you are a mom with multiple kids in a crowded environment.  Your hands are full and you need all the help you can get!  Even when my local Chick-fil-A is super busy, there is always enough staff to deliver my food to me quickly (often before I've even found a place to sit), make sure tables are clean, and go out of their way to make sure I've had plenty of refills on my drink.
7. Reasonable Prices
All of the above 6 items come at a price, staffing being a significant expense for a business like Chick-fil-A, yet they always seem to have enough staff to do the job and I don't feel like I am paying astronomical prices for that service.  Chick-fil-A's grilled nuggets, for example, are comparable in price to many of the value menu items at other fast food restaurants.
As a note, the peanut oil used at Chick-fil-A is highly refined meaning the proteins (the part we are allergic to) have been stripped from the oil before it is used in cooking.  We've visited Chick-fil-A several times with my food allergic son, who sits in a normal chair at a normal table and plays on the same equipment with all the other kids and has never had an adverse reaction from being there, but for added peace of mind we always go prepared (like we do when we go anywhere) with his emergency epinephrine injector just in case.  While Chick-fil-A provides a wonderful service for many food allergy families, it is important to talk to your allergist about your own sensitivities before trying any food that you feel may be at risk for you.

Like this post? Stick around and explore our site for more reviews on allergy friendly and gluten free restaurants and learn more about getting started with food allergies.  Then subscribe to our site and join our social network so you don't miss anything new!