This recipe originates from the classic, 1957 Betty Crocker cookbook.
We've modified it to replace the eggs, flour (wheat), and dairy to create the perfect gluten free vegan chocolate chip cookie, free from all of the top 8 food allergens…. yes, it's heaven.  Crispy browned edges, chewy centers and classic buttery flavor can now be yours once again with this easy to follow recipe!
Best Ever Chocolate Chip Cookies
Ingredients
Directions
Mix dry ingredients and set aside.
Cream Earth Balance and sugars.
Add vanilla.
Add dry ingredients.
Add milk, 1 T. at a time until dough reaches desired consistency (dough will be a little sticky).
Gently fold in chocolate chips.
Roll into balls and chill in fridge 1 to 2 hours or in freezer for 15 minutes.
Bake at 375 F for 8 to 10 minutes.
Let cool 10 minutes on cookie sheet.
Remove to wire rack.
https://www.allergycookie.com/best-ever-chocolate-chip-cookies/
Copyright © 2014 Allergy Cookie. All Rights Reserved
Enjoy!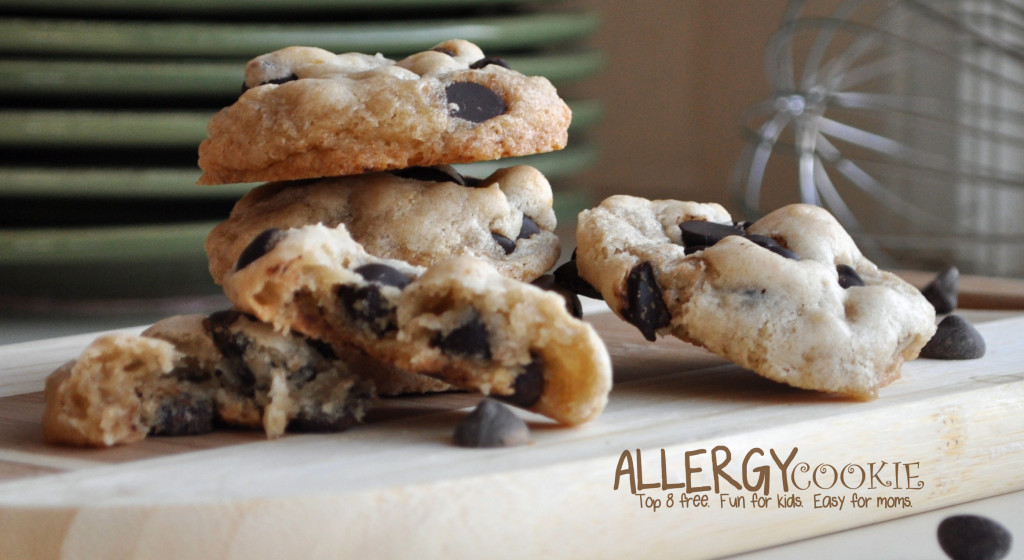 Like this post?  Stick around and browse more of our top 8 free recipes, then subscribe to our site and join our social network so you don't miss anything new!