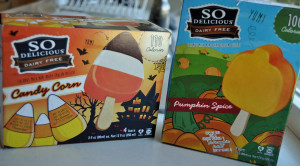 When we first saw the new Candy Corn and Pumpkin Frozen Dessert Bars from So Delicious, we couldn't wait to get our hands on them.
Throw in some of their new Cocowhip and we were in frozen dessert heaven!
This candy corn themed frozen dessert cake is so easy to put together your kids can help you whip it up on short notice for any Fall party or event.
Candy Corn Frozen Dessert Cake and Giveaway
Ingredients
7 Enjoy Life Double Chocolate Crunchy Cookies
1 T. Soy Free Earth Balance
4 So Delicious Candy Corn Frozen Dessert Bars
1 9 oz. tub So Delicious Cocowhip
Top 8 Free Candy Corns for garnish

For the glaze:

1/2 c. orange juice
1/4 c. sugar
1 T. cornstarch + 1 T. cold water
orange food coloring
Directions
Line a miniature loaf pan with wax paper and set aside.
Make glaze by bringing orange juice and sugar to boil in a small saucepan.
Remove from heat and stir in cornstarch/water mixture and food coloring.
Allow to cool completely (glaze will thicken as it cools).
Crumble cookies in food processor.
Remove approximately 1 t. of cookie crumbs and set aside.
Add Earth Balance to food processor and blend.
Press cookie crumb mixture firmly into bottom of pan, inserting frozen dessert bars, chocolate end down.
Using a table knife, stuff Cocowhip into sides of pan and in crevices between dessert bars, until level with top of pan.
Add a layer of orange glaze around the outside of the pan as well as between each dessert bar.
Run a table knife under warm water, then insert into each frozen dessert bar, next to each side of the stick to remove the stick. (see picture above)
Fill remaining cavities with orange glaze.
Place cake in freezer and allow to set (about 30 minutes).
Meanwhile, mix all but 2 T. of glaze with remaining Cocowhip.
Once cake is set, remove from freezer.
Use wax paper to lift frozen cake out of the bread pan and place it on your serving platter.
From the pan line up, coat frozen dessert bars with orange Cocowhip and return to freezer for an additional 30 minutes.
When ready to serve, remove from freezer and drizzle with remaining glaze (if glaze is too thick to drizzle, re-heat it until it reaches the desired consistency).
Sprinkle reserved cookie crumbs and garnish with safe candy corn candies.
Nutrition Information:
242 calories, 13g fat, 9g saturated fat, 0mg cholesterol, 53mg sodium, 34g carbohydrates, 3g dietary fiber, 22g sugars, 1g protein
https://www.allergycookie.com/candy-corn-frozen-dessert-cake-and-giveaway/
Copyright © 2014 Allergy Cookie. All Rights Reserved
Like this recipe?  Check out more of our top 8 free recipes, then subscribe to our site and join our social network so you don't miss anything new!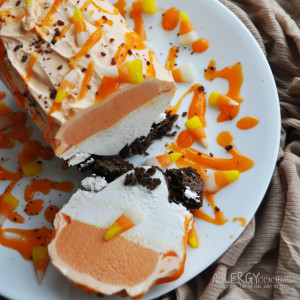 Thanks to So Delicious for sending us samples of their new festive goodies!  We love being able to give our kids fun and safe desserts at a time of year when they are surrounded by others noshing on festive treats they can't have.
One of our lucky readers will receive 2 free product coupons from So Delicious and a box of cookies from Enjoy Life so they can make this fun cake too (or pick up any 2 So Delicious products of their choice).  Just sign up using the Rafflecopter giveaway below!