Do you remember receiving a personalized chocolate butter egg from See's Candies in your Easter basket when you were growing up?  That BIG chocolatey, creamy egg with your very own name on it?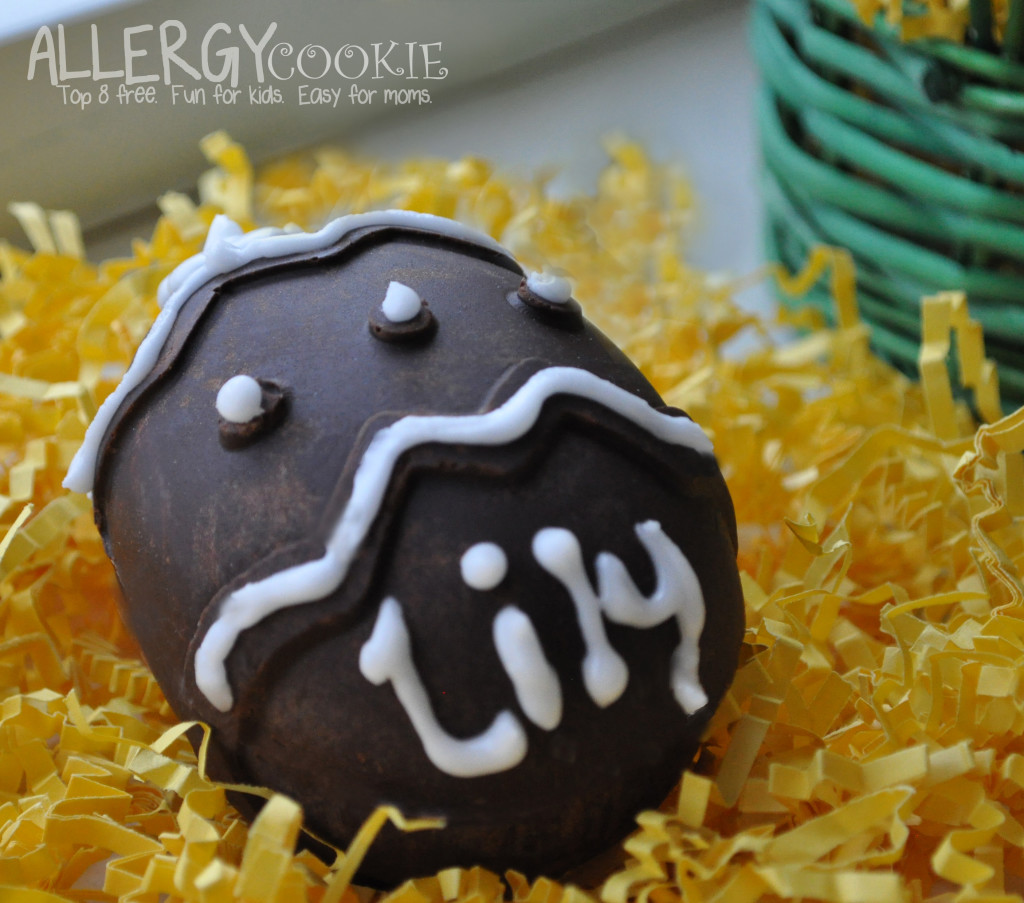 Yep, those were special!  Unfortunately, most kids with food allergies can't eat those because they are made in a factory with nuts & peanuts and contain milk and other allergens.
But thanks to companies like Earth Balance, Daiya, and Enjoy Life, these magical treats are now possible for your food allergic kiddos!  Enjoy our top 8 free recipe below:
Easter Chocolate Butter Eggs (gluten free, vegan, top 8 free)
Ingredients
1/4 cup Soy Free Earth Balance
4 oz. Daiya cream cheese
1/2 teaspoon vanilla
4 cups powdered sugar
1 bag Enjoy Life Mini Chips
Directions
Cream together Earth Balance and cream cheese.
Add vanilla and powdered sugar, one cup at a time while mixing.
Whip for 3-5 minutes.
Pour chocolate chips into a microwave-safe dish and microwave 30-60 seconds at a time, stirring between, until chocolate is completely melted.
Spread chocolate into large chocolate egg molds (we used a silicone muffin "tin".)
Place molds in the freezer for about 15 minutes to set.
Remove molds from freezer and remove chocolate egg halves from molds.
Fill eggs with cream cheese mixture and seal egg halves together with any melted chocolate that still remains.
Decorate with Royal Icing as desired.
https://www.allergycookie.com/easter-chocolate-butter-eggs/
Copyright © 2014 Allergy Cookie. All Rights Reserved
Try these yummy substitutes to create a chocolate buttercream center or a Bordeaux egg:
Chocolate Buttercream:  Swap 1/4 cup powdered sugar with 1/4 cup cocoa.
Bordeaux Egg:  Substitute half of the powdered sugar called for in the recipe with brown sugar.
Don't forget to check out our other Easter recipes and explore our site for more fun ideas for kids, then subscribe to our site and join our social network so you don't miss anything new!