These cookies are so easy and fun to make with the kids and nothing says "Happy Valentines Day!" like pink, red, and purple fruity goodness (except maybe chocolate, of course)!
Made with certified organic ingredients, low sugar and zero cholesterol, I've even let my kids eat these cookies for a guilt-free weekend breakfast.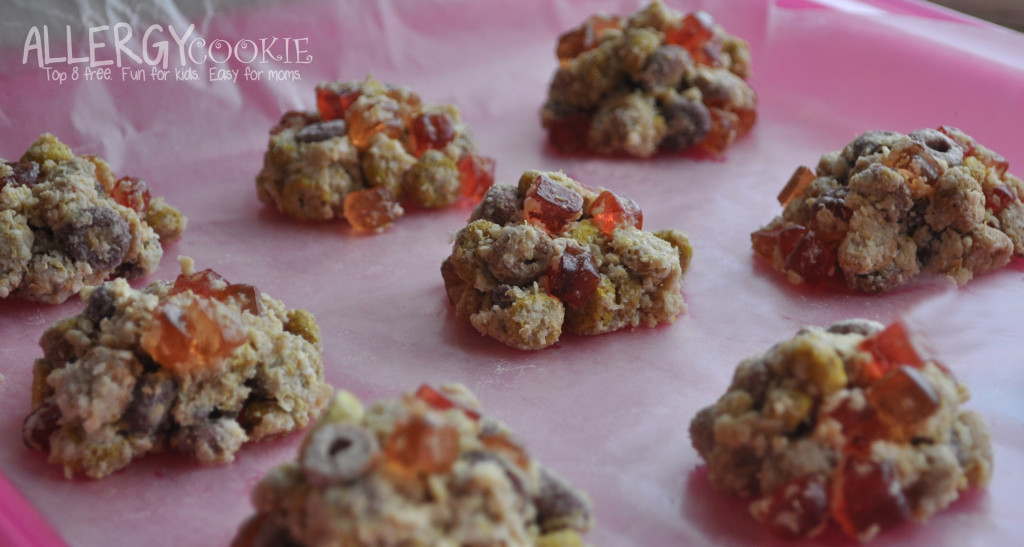 You can drop these cookies onto a cookie sheet and eat them any time of year, or press them into heart shaped molds for a special Valentines treat.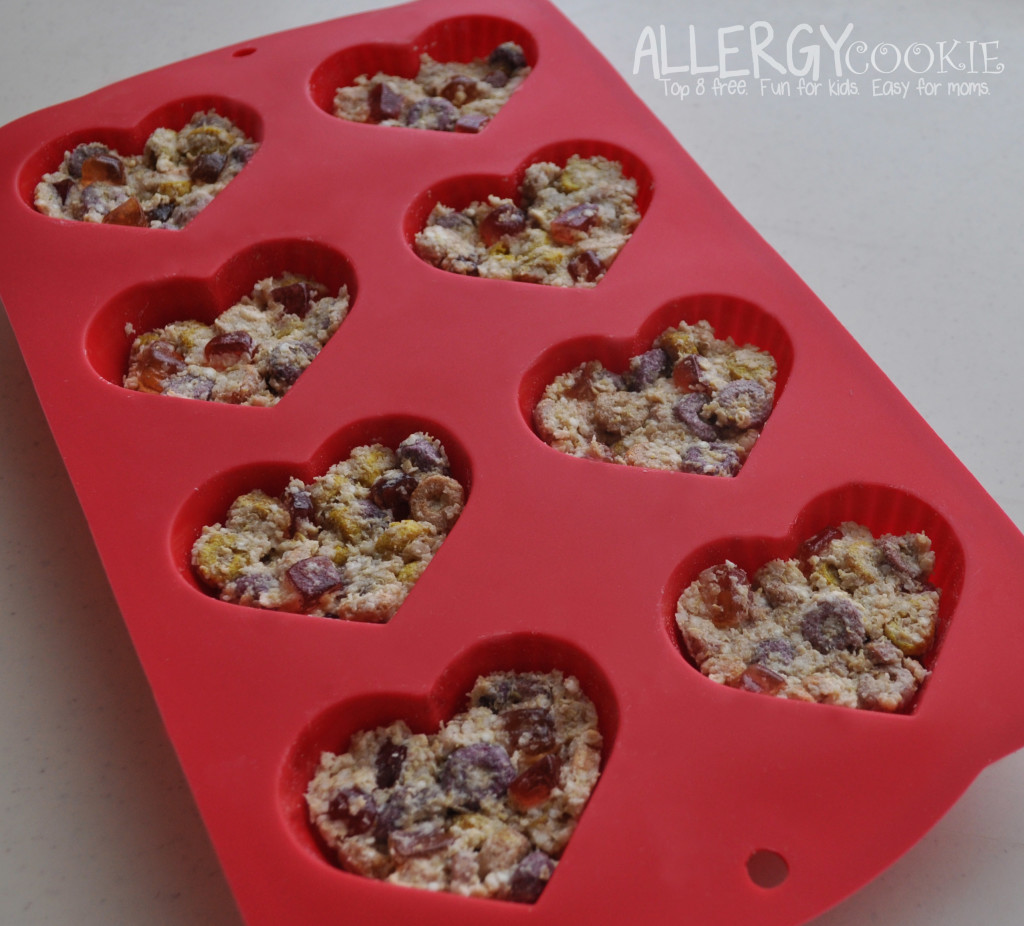 But be careful about leaving these cookies out on the counter… they seem to get better as they age but you wouldn't know because the kids will snatch them up quick and they'll be gone before you get a chance to try them!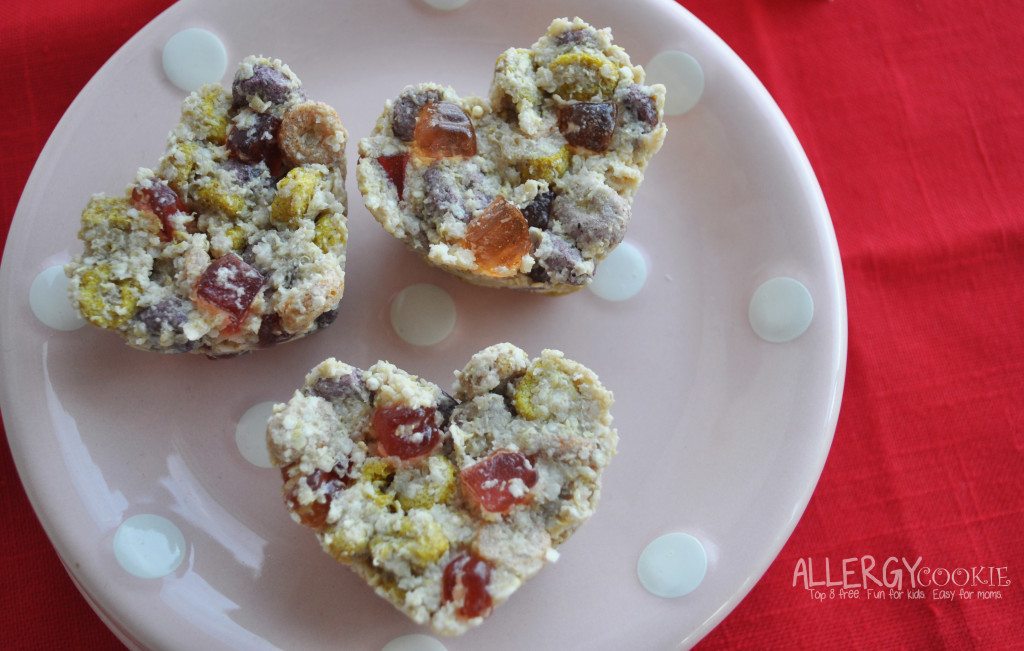 Get the recipe below, then keep reading for more info about these amazing ingredients and a chance to win your very own Valentine cookie kit to make these cookies at home yourself!
Fruity No Bake Cookies (gluten free, vegan, top 8 free)
Ingredients
Directions
Chop fruit snacks into thirds and set aside.
Mix Tropicos and quinoa flakes in a separate bowl.
Add Daiya to Tropicos mixture but do not stir.
In a saucepan, combine Earth Balance, coconut milk, vanilla, and sugar over medium high heat.
Melt and bring to a boil.
While stirring, boil one full minute.
Remove from heat and pour over Tropicos mixture.
Stir ingredients together well, then drop spoonfuls onto a lined cookie sheet (or press into molds).
Let sit overnight until set.
Store in an airtight container for up to one week.
https://www.allergycookie.com/fruity-valentine-no-bake-cookies-shhh-theyre-healthy-too/
Copyright © 2014 Allergy Cookie. All Rights Reserved
A little bit more about the ingredients:
We love the brands we've chosen to make these cookies because we know that each of them take special care to implement strict allergen control programs and some of them even test for the presence of common allergens which provides the added comfort that helps us feel safe!
But there's even more to love about these zero cholesterol, plant-based, low sugar, vegan foods. They're good for you too!
Annies Homegrown fruit snacks are made with real fruit juice and don't contain any artificial flavors, synthetic colors, or preservatives.  They're also free from high-fructose corn syrup, gluten free, gelatin free, vegan and certified organic.  You can find them in a variety of places in the U.S. including cute little Valentines bunnies your kids can pass out to their Valentine's at school.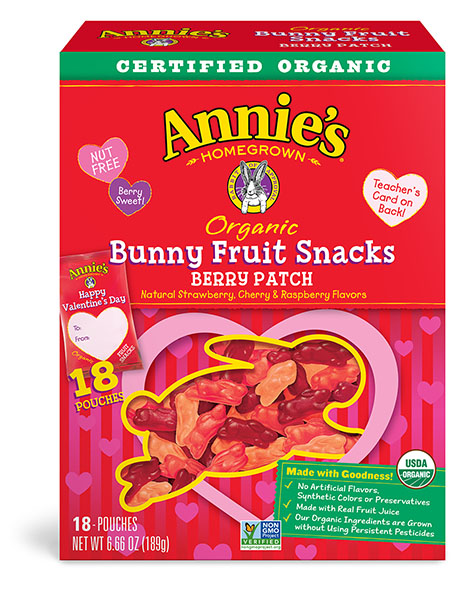 Freedom Foods tests every batch of their cereal for the presence of common allergens (even though they don't use these allergens in any of their products in the first place!)  They also focus on healthy products by providing you with easy to follow nutrition info via standard serving sizes, as little sugar as possible, and added fiber with psyllium husks.  In addition, their genuine commitment to costumers is projected at all levels of the organization (I've personally met their CEO can say it really shows).
Daiya is the hands down winner for producing a cheese like product that is not only vegan, but also soy free and nut free as well.  In our opinion, they are the only top 8 allergen free cheese worth eating, and the cream cheese like products taste just like the real thing. They've only been on the market since 2009, but it's not surprising at all that their brand is growing as quickly as it is.  In addition to being great for food allergies, we've helped a number of our friends transition to low-cholesterol diets with these delicious products.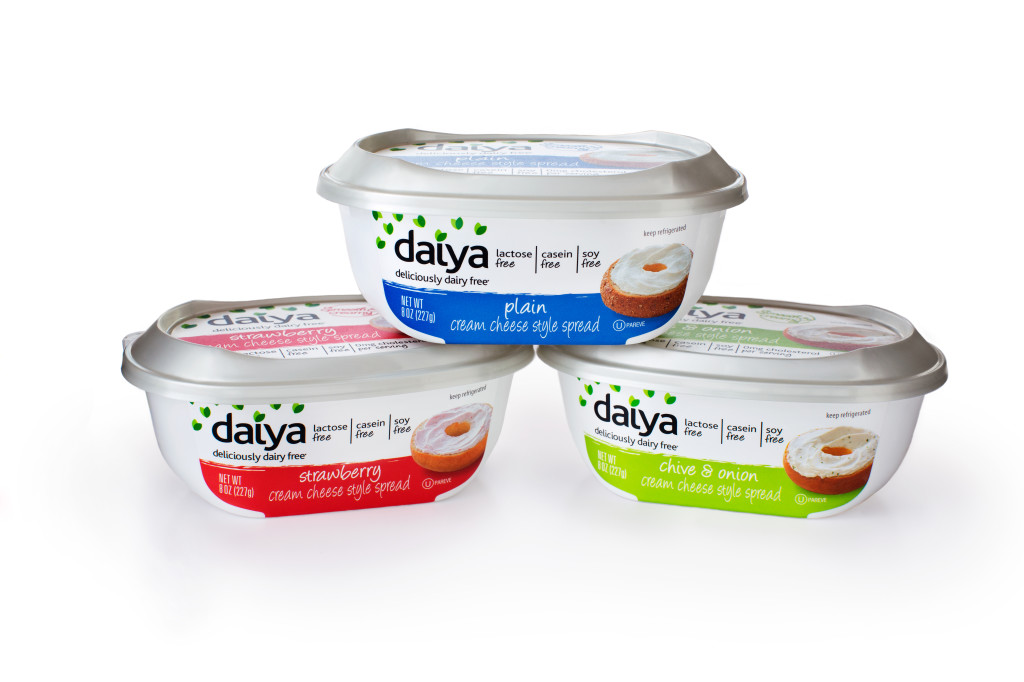 Soy-Free Earth Balance is our go-to top 8 allergen free butter substitute for everything we cook or bake.  We've had success using it as a straight substitute for pretty much anything that calls for butter.  Not only is the texture comparable, but it actually tastes buttery too!
Ancient Harvest Quinoa Flakes are certified organic, non-gmo, and a delicious alternative to a bowl of oatmeal for those who avoid oats (like me!).  We can't even begin to describe how excited we are about their new hot cereal products!
We love all So Delicious coconut milk products!  While this particular recipe works well with just about any milk alternative of your choice, we wanted to take the time to spotlight this great brand.  See if you can find some of their unique products in our Halloween posts (hint, there's at least 3)!
We even added some strawberry flavoring to So Delicious coconut milk to drink alongside the cookies. Simple, Easy, and Yum!
Now's your chance! Enter to win your own Valentine Cookie Kit with everything you need to make these amazing treats (just add sugar & vanilla):
a Rafflecopter giveaway

Like this post?  Browse our site for more top 8 free recipes and Valentines ideas, then subscribe to our site and join our social network here.  New to our site?  Start here.