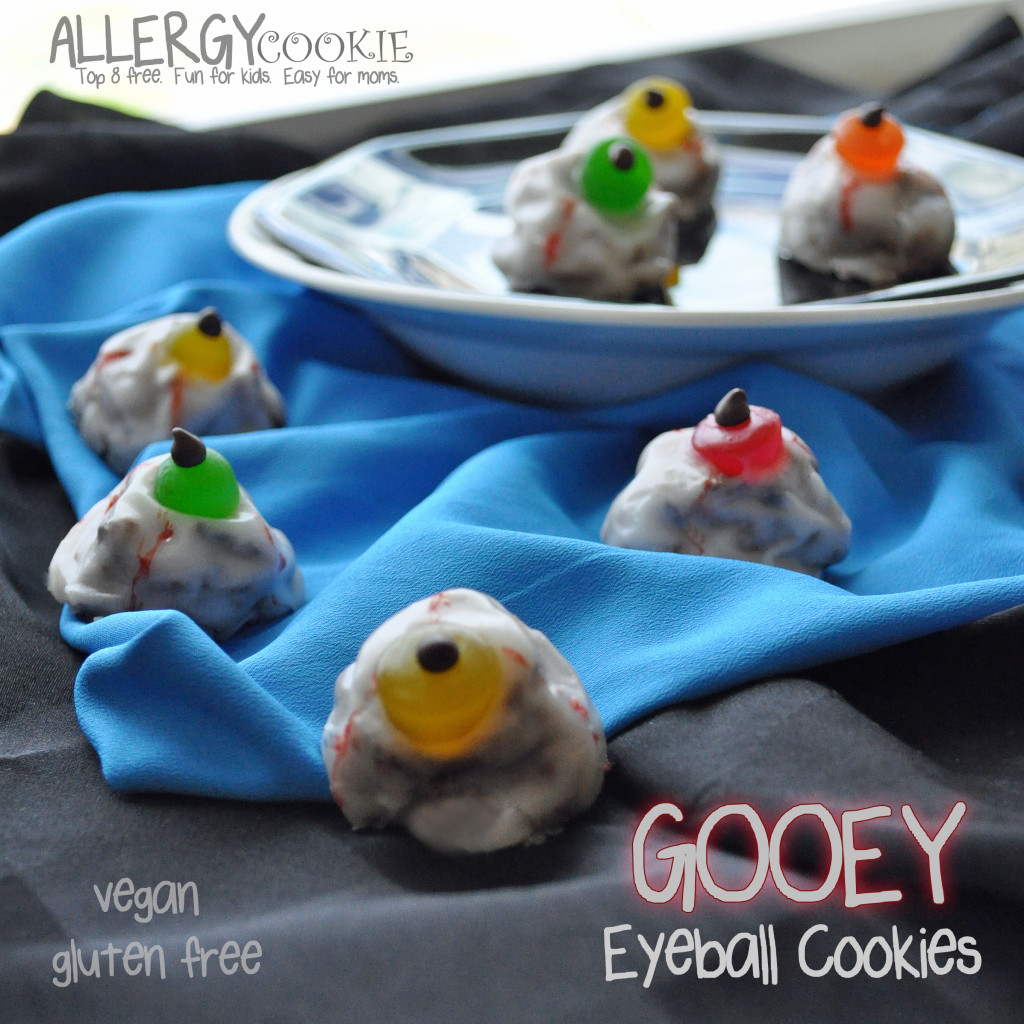 These cookies will look great on your Halloween dessert table this year!  They are yummy, fun and easy for little hands to put together!
Gooey Eyeball Cookies (gluten free, vegan, top 8 free*)
*This recipe contains coconut.
Ingredients
5 cups powdered sugar
A red food color marker that is safe for you.
Directions
Place cookies in a sealed plastic bag and crush.
Mix crushed cookies with cream cheese and roll into balls.
Place cookie balls on a wax paper lined cookie sheet and place in freezer for 10 minutes.
Meanwhile, heat oven to 250 degrees F.
Blend yogurt and powdered sugar.
Place a cooking rack on a cookie sheet.
Remove cookie balls from freezer, coat in yogurt mixture, and place on cooling rack.
Cut Dots candies in half and place one half on top of each cookie.
Place one chocolate chip in the center of each Dots candy.
Turn off oven.
Place cookie sheet in warm oven for 3 to 4 hrs to set.
Remove cookie sheet and draw 3 lines on each cookie to resemble blood shot eyes.
Nutrition Information:
175 calories, 5g fat, 3g saturated fat, 0mg cholesterol, 90mg sodium, 31g carbohydrates, 0.5g dietary fiber, 25g sugars, 1g protein
https://www.allergycookie.com/gooey-eyeball-cookies/
Copyright © 2014 Allergy Cookie. All Rights Reserved
Like this recipe?  Check out more of our fun posts for kids then subscribe to our site and join our social network so you don't miss anything new!