This year, Team Cookie has joined Food Allergy Research and Education (FARE) in an effort to raise funds  f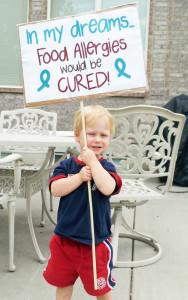 or the 2014 FARE Walk for Food Allergy.

More than 15 million Americans suffer from food allergies, sending one new patient to the emergency room every 3 minutes and food allergies affect more than the individual… they affect an entire community from caregivers to school teachers, event planners, restaurant owners, food manufacturers, and emergency responders.
Food Allergy Research and Education (FARE) is a 501(c)3 non-profit organization committed to creating awareness and educating doctors, patients, caregivers, educators, and many others affected by this rising public health concern, in addition to continuing to search for a cure.
In 2013, donations received by FARE were able to drive the following initiatives:
When you donate to Team Cookie, you're helping further these causes and initiating more to come.
Find out more about how you can support Team Cookie, today!  Then subscribe to our blog and join our social network so you don't miss anything new!