Can't find candy corn free of the top 8 food allergens? Make your own!  It's easy and fun to do with little helpers the kitchen.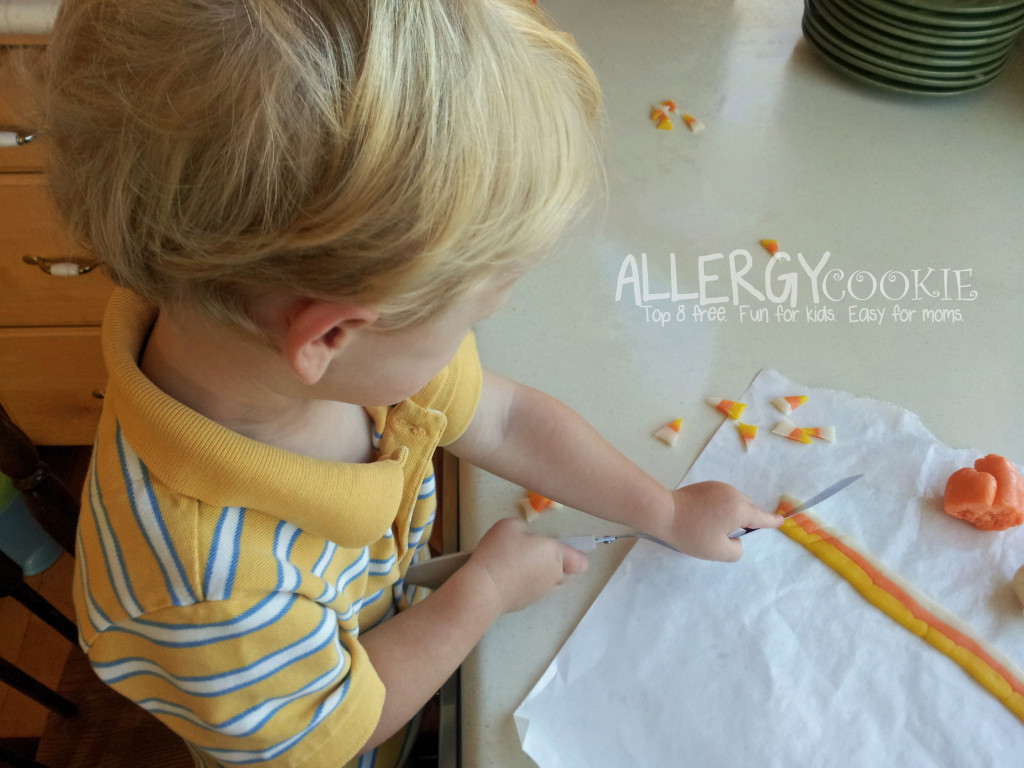 Homemade Candy Corn (egg free, nut free, vegan)
Ingredients
1 cup sugar
2/3 cup corn syrup
5 tablespoons Soy Free Earth Balance
1 teaspoon vanilla extract
2 1/2 cups powdered sugar
1/3 c. cornstarch
pinch of salt
orange and yellow food coloring
Directions
Mix powdered sugar, cornstarch, and salt. Set aside.
Bring sugar, corn syrup, Earth Balance, and vanilla to boil over high heat.
Reduce to medium and boil 5 minutes, stirring occasionally
Remove from heat, add dry ingredients, and stir to combine.
Let stand until cool enough to handle, but still slightly warm (approximately 20 minutes).
Divide into 3 equal pieces and knead yellow food coloring into one, while kneading orange food coloring into the other.
Separate each ball of dough into 4 equal pieces.
Recruit 3 little helpers to each handle one set of dough balls (keep the 4th for yourself).
For each set, roll each piece into equal length ropes and lay out on wax paper (orange in the middle, white and yellow on the outside edges).
Flatten and press the ropes together with a rolling pin.
Using a spatula, cut each piece at alternating angles.
Smooth out edges of each piece and allow to cool completely.
Nutrition Information:
9 calories, 0.2g fat, <1g saturated fat, 0mg cholesterol, 2.86mg sodium, 1.84g carbohydrates, 0g dietary fiber, 1.24g sugars, 0g protein
https://www.allergycookie.com/homemade-candy-corn/
Copyright © 2014 Allergy Cookie. All Rights Reserved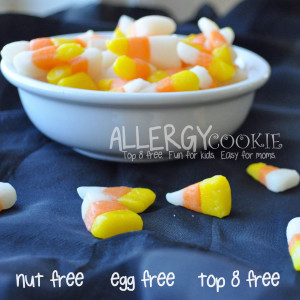 Like this recipe? Browse more of our top 8 free recipes, then subscribe to our site and join our social network so you don't miss anything new!
New to food allergies?  Get started here.