Food allergy families were pleasantly bombarded with love and support shown them this year as their children enjoyed trick or treating benefited by the Teal Pumpkin Project.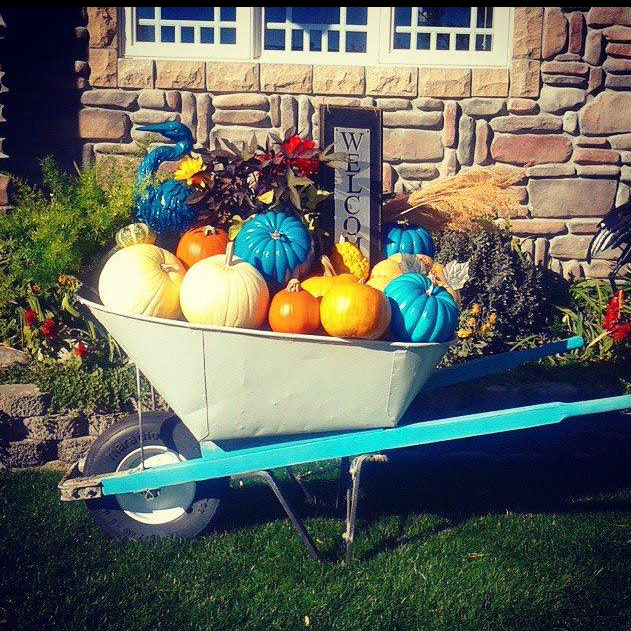 Barbara, who lives in the small town of Ferron, Utah was overwhelmed with emotion when she saw a member of her community reach out to others by posting a picture of her own teal pumpkin wheelbarrow display on Facebook, inviting all to join the teal pumpkin movement: "many children have deadly food allergies, something I didn't give much thought to [before]".  Because of this woman's kind gesture, other members of the community joined in and Barbara's son was able to experience trick or treating for the first time ever (a holiday they had previously celebrated quietly in their home).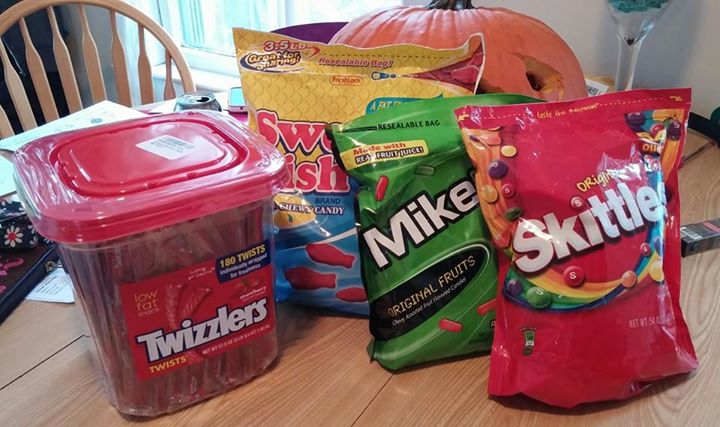 Little Mackenzie of Massachusetts was more than excited when her dad's boss, who felt bad when he learned that she wouldn't be able to keep most of what she'd collect on Halloween night, spontaneously researched safe candy for her on the internet and purchased a whole bunch of it in bulk to send home with her dad.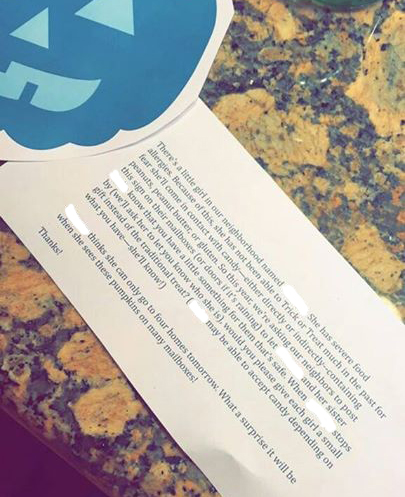 Stacy, in Ohio, was completely caught off guard when she discovered that two neighbors of hers had personally delivered teal pumpkins and notes to members of her neighborhood inviting them to prepare a small gift for her daughters instead of the traditional treat.
She said she was brought to tears as she experienced trick or treating without worrying at all and her daughters were on cloud 9, having received all kinds of little goodies.  Since one of her daughters is allergic to tree nuts, gluten, wheat, eggs, soy, and food dyes, this was an outcome she never imagined would happen for them on a trick or treat night.
Sara Thompson of Utah said she was both happy and surprised by a thoughtful gesture, when someone "booed" her house this year by leaving a bag of toys for her son instead of candy…  a gesture that was likely inspired by the awareness raised by the Teal Pumpkin Project.
Laura of Palm Beach Florida received a personalized note from her neighbor that wasn't planning to be home on Halloween night, stating that she had prepared a bag of non-food treats she wanted to drop by to her kids.
Halloween is usually a rough night for kids with food allergies, as they want to fit in and feel normal by participating in the activities other children do. But they are also faced with the hard reality that they will not be able to keep most of what they collect on Halloween night, in addition to the risks and dangers of possibly coming into contact with their known allergens.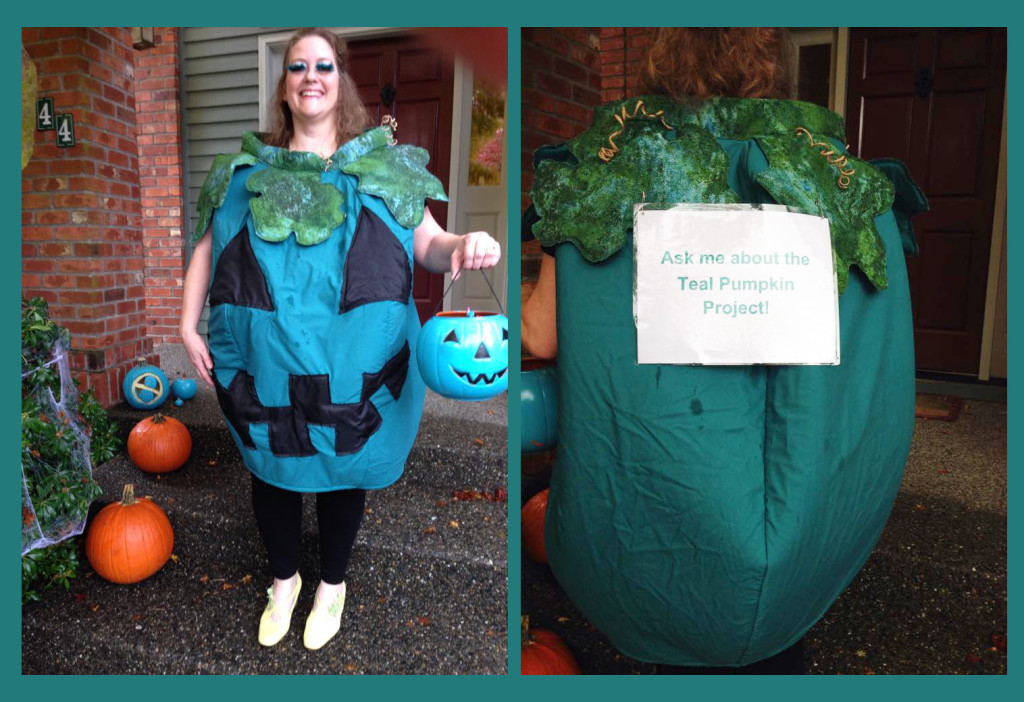 Julie of Seattle, Washington, whose children don't have food allergies, participated in the Teal Pumpkin Project and even dressed up as a teal pumpkin for Halloween. She says she wants the food allergy community to know that despite the discrimination and bullying that sometimes occurs toward kids with food allergies, there are many more who are sympathetic and supportive. She wants to be inclusive and welcoming of all kids to her home.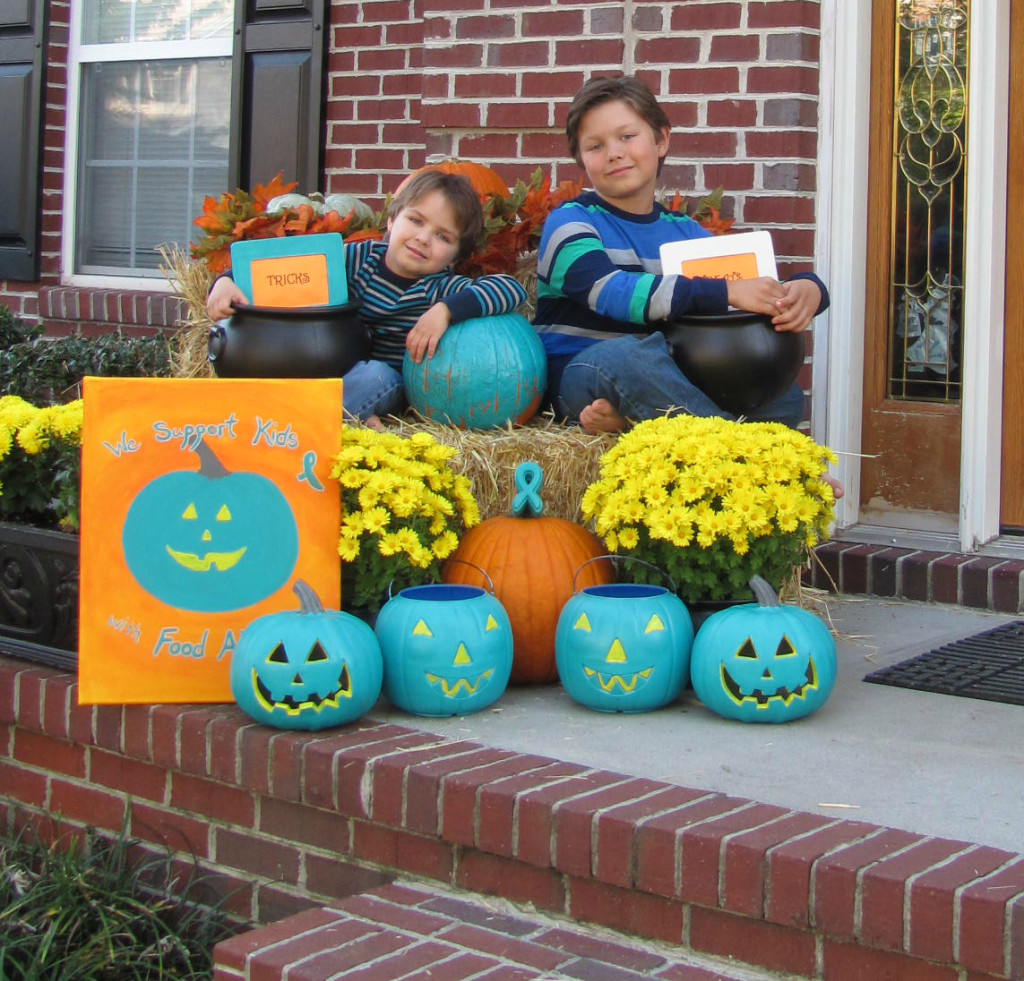 When Becky Basalone of East Tennessee first placed a teal pumpkin on her porch as a simple conversation starter on Halloween night of 2012, she had no idea what type of an impact it would make.  Due to grassroots efforts, the idea of placing a teal pumpkin on your porch to signal that you have non-food treats available has grown each year.  This year Becky's support group, The Food Allergy Community of East Tennessee (FACET) joined forces with Food Allergy Research and Education (FARE) to promote the project nationally.  The project spread quickly and thousands were posting pictures of their teal pumpkins on social media, soliciting coverage of the local news outlets, and sharing details about their plans for participating in the Teal Pumpkin Project.
Elizabeth Mulheisen of Michigan, feeling inspired and uplifted about the involvement of so many in the project said, "For the first time in 5 years, I am really excited about Halloween this year!"
Charlene, who participated in the Teal Pumpkin Project in Kentucky said it felt good when parents of kids without food allergies who showed up at her door to trick or treat thanked her for participating in the teal pumpkin project.  She was also pleased when a neighbor asked for more information so she could get involved next year and also recruit more of the community to get involved as well.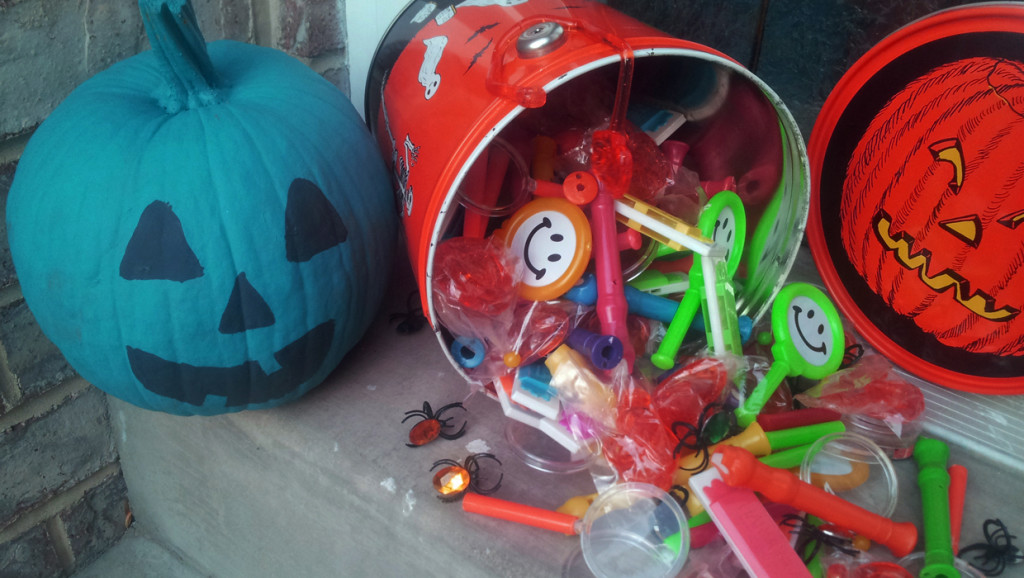 Now, just two years after that first teal pumpkin was placed on a porch in East Tennessee, thousands of families with or without food allergies across the nation (and even a few outside the U.S.) placed teal pumpkins on their porches this year and many plan to keep this a tradition for years to come.
For more information about the Teal Pumpkin Project, which will run again during Fall 2015, visit the Project Teal Facebook Fan Page and the official Teal Pumpkin Project Page on Food Allergy Research and Education's website.
Like this article?  Stick around and browse more food allergy news, then subscribe to our site and join our social network so you don't miss anything new!  New to food allergies?  Start here.