As soon as the weather is warm enough, you're likely to find me out cooking up something tasty on my grill.  I love eating food cooked in the outdoors and I love cooking in the outdoors, too!  And I can't think of a better way to celebrate the beginning of grilling season than with these lovely Spring Vegetable Yogurt Kebabs — using veggies fresh out of the garden!
The "yogurt" helps soften the vegetables and keep them moist while the breading adds to the outer crunch and amazing flavor.  My mouth is watering just writing about it but you can try them for yourself!  Enjoy the recipe below:
Spring Veggie Yogurt Kebabs (gluten free, vegan, top 8 free)
Ingredients
3 T. lemon juice
1/2 c. safe bread crumbs (we used Ener-G)
1/4 t. garlic powder
1/2 T. parsley
1/4 t. seasoned salt
1/4 t. pepper
1 medium-sized head broccoli
1 small head cauliflower
1 bunch asparagus
2 cups sugar snap peas
Directions
Break broccoli and cauliflower into large pieces and set aside.
Snap bottom stems off of asparagus and set aside.
Open the yogurt and stir it well to prevent curdling.
Add lemon juice and mix well.
Set aside.
In a separate bowl, mix together bread crumbs and seasonings.
Spread the bread crumb mixture out on a plate or shallow bowl and set aside.
Thread the vegetables onto kebab skewers.
Using a rubber scraper or basting brush, coat the kebabs with a light layer of the yogurt mixture.
Roll kebabs in bread crumbs.
Grill slowly, over low heat, until vegetables are tender.
Serve warm with Spicy Yogurt Dipping Sauce.
Nutrition Information:
63 calories, 2g fat, <1g saturated fat, 0mg cholesterol, 128mg sodium, 10.5g carbohydrates, 3g dietary fiber, 2.5g sugars, 2g protein
https://www.allergycookie.com/spring-veggie-yogurt-kebabs/
Copyright © 2014 Allergy Cookie. All Rights Reserved
This recipe is an official entry in the So Delicious and Go Dairy Free Spring Fling Dairy-Free Recipe Contest.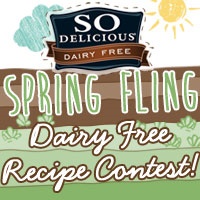 Like this recipe?  Stick around and explore our other recipes, then subscribe to our site and join our social network so you don't miss anything new!