Hey kids!
It's springtime and you're probably spending a little more time outdoors being active and having fun.  Being active means you're burning more calories and you need to replace them with something hearty and filling like protein.  But when you're out in the hot sun, you want something to cool you off too.
Refreshing Strawberry Protein Pops are just the thing you need to cool you off, quench your thirst, and satisfy your hunger until dinner time.  These are fun and easy to make and you can even make them ahead and store them in the freezer so they are already waiting for you to eat on the perfect day.
Just watch our video tutorial below to learn how fun and easy Strawberry Protein Pops can be!


Strawberry Protein Pops (gluten free, vegan, top 8 free)
Ingredients
1/4 c. sunflower seed butter
1/4 c. quinoa flakes
1/4 c. roasted and unsalted sunflower seeds
4 med. strawberries, chopped
Directions
Spread sunflower seed butter over dessert bars.
Roll in quinoa flakes.
Place on wax paper in freezer for 15 minutes.
Meanwhile, melt chocolate chips, a little at a time in the microwave, stirring every 20 to 30 seconds until fully melted.
Stir sunflower seeds into the chocolate.
Remove dessert bars from the freezer and spread chocolate mixture over top.
Roll in chopped strawberries.
Return to the freezer for 15 minutes.
Nutrition Information:
350 calories, 22g fat, 8.5g saturated fat, 0mg cholesterol, 65mg sodium, 35g carbohydrates, 10g dietary fiber, 20g sugars, 7.5g protein
https://www.allergycookie.com/strawberry-protein-pops/
Copyright © 2014 Allergy Cookie. All Rights Reserved
 This recipe is an official entry in the So Delicious and Go Dairy Free Spring Fling Dairy-Free Recipe Contest.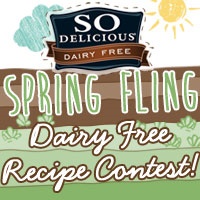 Like this recipe?  Stick around and explore our other recipes and activities for kids, then subscribe to our site and join our social network so you don't miss anything new!