Before diagnosis, we were big nut lovers at our house and this Sweet Potato Pie (I can't stand plain old canned yams with brown sugar and marshmallows on top) was a Thanksgiving staple.  So of course, on the first Thanksgiving after diagnosis, I made finding a way to make a safe version of this recipe a top item on my priority list.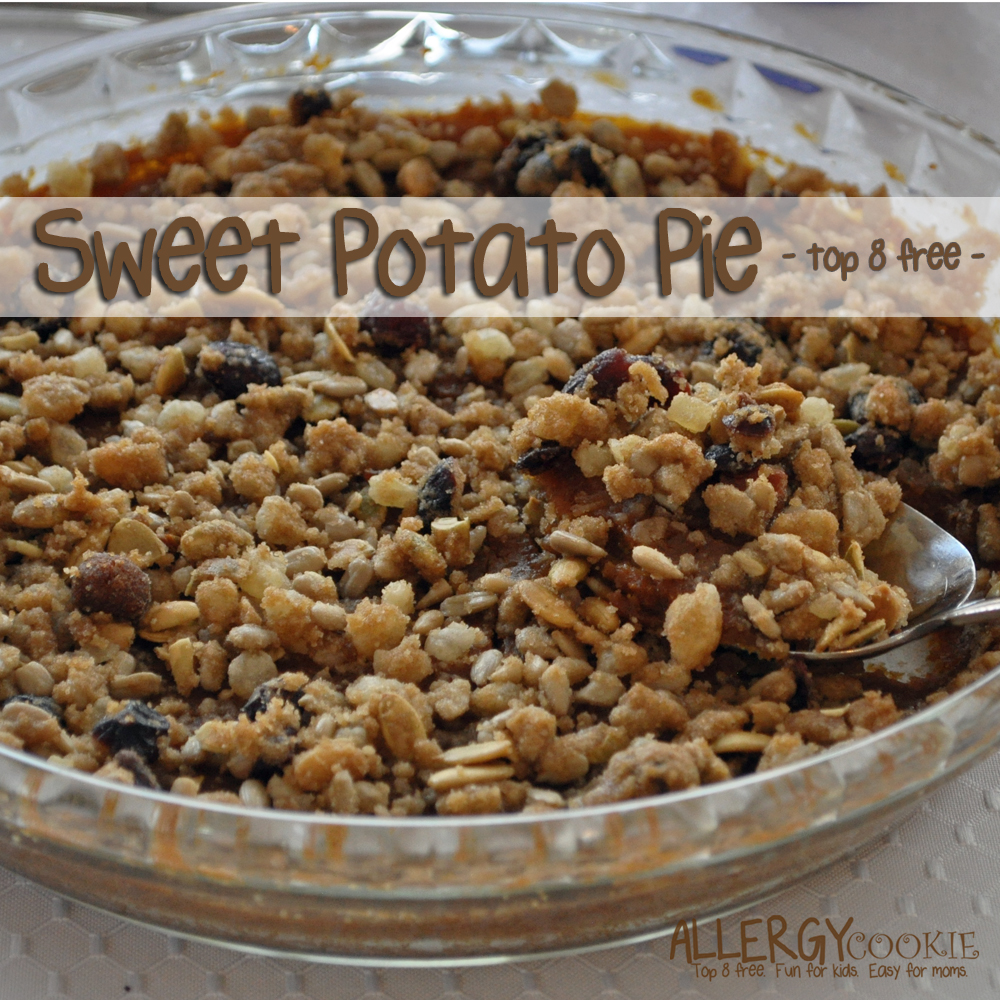 This is also a sentimental recipe for me because it is the very food (the unsafe version, of course) my son had a bite of when he experienced anaphylaxis on Thanksgiving and was officially diagnosed with severe food allergies.  He had experienced anaphylaxis once before but I was naive and because it hadn't resulted in anaphylactic shock, did not realize just how serious it could have been.  As per the pediatrician's reccomendation,  I made notes of the foods he had eaten that day so we'd be prepared to see an allergist if he had a similar experience at a later date.
Because I wasn't aware of the most common allergens or cross contact at the time, I had completely overlooked the nuts from that day and didn't even think twice when I fed him a pecan-topped bite of Sweet Potato Pie on Thanksgiving.  I thank God every day that my son is alive and well, and especially on Thanksgiving, I'm thankful that a safe version of this delicious recipe is possible.
Sweet Potato Pie (nut free, vegan, gluten free)
Ingredients
3 (29 oz.) cans yams
1 T. cornstarch + 1 T. cold water
2 T. melted Soy Free Earth Balance
¼ cup sugar
1 t. vanilla
½ t. salt

For the Topping

3 T. Soy Free Earth Balance
½ cup Enjoy Life Beach Bash Seed & Fruit Mix (two 1.63 oz packages)
¼ cup + 2 T. brown sugar
¼ cup + 2 T. safe all purpose flour
Directions
Combine cornstarch and water and set aside.
Drain yams and puree in food processor.
Mix in melted Earth Balance, sugar, vanilla, salt and cornstarch solution.
Place in 13 X 9 casserole dish.
Top with topping.
Bake at 350 for 30 minutes.

For the Topping

Cube and chill Earth Balance.
While Earth Balance is chilling, combine seed & fruit mix, brown sugar, and flour.
Cut in Earth Balance.
Crumble over sweet potatoes and bake immediately.
Nutrition Information:
207 calories, 6g fat, 2g saturated fat, 0mg cholesterol, 179mg sodium, 37g carbohydrates, 2g dietary fiber, 20g sugars, 1g protein
https://www.allergycookie.com/sweet-potato-pie-nut-free-vegan-gluten-free/
Copyright © 2014 Allergy Cookie. All Rights Reserved
Like this recipe?  Stick around and browse more of our top 8 free recipes, then subscribe to our site and join our social network so you don't miss anything new!