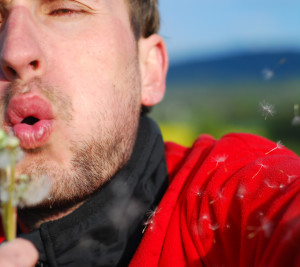 For people with food allergies, allergy season is about more than just sneezes, sniffles, and itchy eyes.
Love Remembers Day — March 31st
On March 31st, 2014 members of the food allergy community from all over the world participated in the first annual Love Remembers Day, paying tribute to those who have lost their lives due to food allergy induced anaphylaxis.  Tribute was shown in the form of blue and gold ribbons, t-shirts, and other creative wardrobe options such as custom-made sandals and fingernail painting.  Product and service donations were also made available to food allergy families, and Love Remembers Day t-shirts were sold to raise money for charity.  Charitable efforts of The Food Allergic Multicultural Society of Diversity, who hosted the event are designed to reach out, support, and assist families suffering the loss of their loved one due to anaphylaxis.
World Allergy Week – April 7-11, 2014
The theme for World Allergy Week this year is "Anaphylaxis — When Allergies Can Be Severe and Fatal".  All week long, the World Allergy Organization, as well as many other organizations and individual participants will be bringing attention to the need for increased awareness, training, and resources that lead to improved safety and quality of life for those who are at risk of anaphylaxis from food allergies, latex, medications, and insect stings.  You can find more resources on their site at www.worldallergyweek.org.
Food Allergy Awareness Week – May 11-17, 2014
While FARE (Food Allergy Research & Education) works year-round to promote food allergy awareness, they devote one week each year to invite schools, businesses and communities to shine a special spotlight on food allergies.  FARE suggests several opportunities for individuals and organizations to get involved in promoting food allergy awareness, education, and research support.
Subscribe to the Allergy Cookie website today and join our social network for more updates and to stay in the loop on how Allergy Cookie is getting involved in these events.