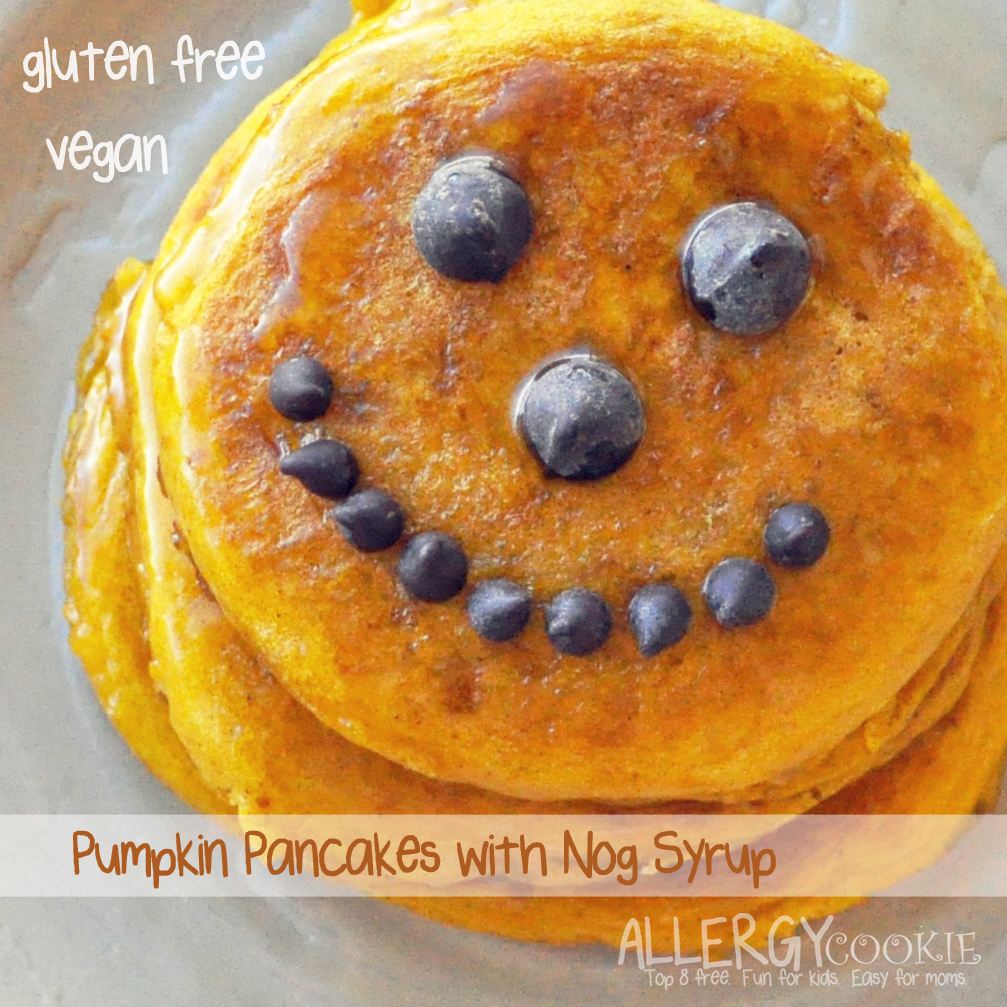 The nog syrup is what makes these pancakes pop, but beware of leftover pancakes… You might find little hands sneaking one or two to satisfy that afternoon cookie craving!
Have a little fun and let the kiddies make jackolantern faces with safe chocolate chips!
Pumpkin Pancakes with Nog Syrup (gluten free, vegan, top 8 free*)
*This recipe contains coconut
Ingredients
2 1/2 cups of your favorite gluten free pancake mix (plus an additional 1/4 cup)
1 cup canned pumpkin
1/2 t. pumpkin pie spice
So Delicious Pumpkin Spice Coconut Milk

For the Syrup

1/2 cup Soy Free Earth Balance
3/4 cup So Delicious Coconut Nog
1 cup sugar
1 t. vanilla
1 t. baking soda
2 T. corn starch + 2 T. cold water
Directions
Prepare pancakes as directed, making any substitutions as you would normally for the 2 1/2 cups mix.
In place of the liquid, use Pumpkin Spice Coconut Milk.
Add canned pumpkin, pumpkin pie spice, and additional 1/4 cup pancake mix.
Blend well and cook as directed.

To prepare the syrup:

Combine sugar, nog, & Earth Balance in a saucepan and melt.
Mix cornstarch with water, then add to syrup mixture while stirring rapidly.
Bring to a boil.
Remove from heat and stir in remaining ingredients.
Syrup will thicken as it cools.
Nutrition Information:
185 calories, 6g fat, 2g saturated fat, 0mg cholesterol, 145mg sodium, 32g carbohydrates, 1g dietary fiber, 17g sugars, 1g protein
https://www.allergycookie.com/pumpkin-pancakes-with-nog-syrup/
Copyright © 2014 Allergy Cookie. All Rights Reserved
Like this recipe?  Stick around and browse more of our top 8 free recipes, then subscribe to our site and join our social network so you don't miss anything new!
New to food allergies?  Get started here.