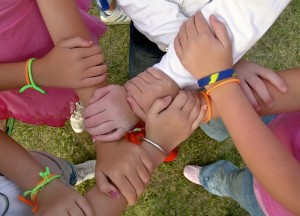 As with any major life changing event, the recent diagnosis of a child with a food allergy can set into motion a whirlwind of emotions, even including the five stages of grief.  At Allergy Cookie, it is our goal to help you through each stage by empowering you with effective coping techniques and resources.
And because we know your kids' health is important to you too, we'll provide you with parenting tips and resources that will help you teach your children how to deal with stress and accept their food allergy as a challenge they can live with confidently.  Browse through our recent posts, then subscribe to our site and join our social network today so that you don't miss anything new!
Here at Allergy Cookie, you can connect with other families like yours, read their stories, and find support groups in your area.  To provide us with information about resources in your area, or to share your own story with the Allergy Cookie family, fill out the form below or email us at support@allergycookie.com.
[contact_form] or [contact_form lang=en]