We just happened to be preparing this recipe for the blog and thought that since today is little Joey's funeral, this would be the most appropriate day to post.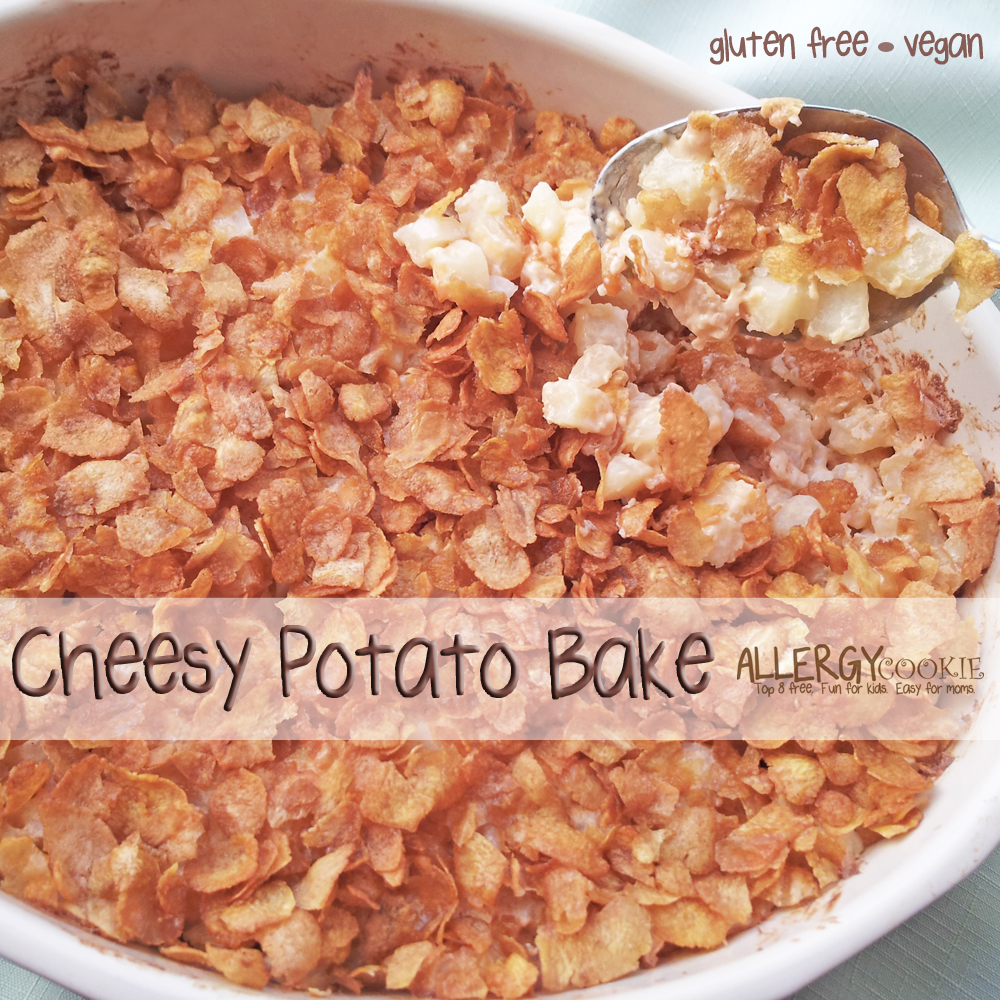 These potatoes are nick-named funeral potatoes because here in Utah, they are traditionally served at luncheons following just about every funeral around.  Of course, the version usually served at funerals is filled with butter, cheese and sour cream, but this recipe is completely milk free, gluten free, vegan, and free of all of the top 8 food allergens.
These potatoes are the ultimate comfort food and we love to eat them — not only after funerals, but at most family gatherings and especially during the cold weather months and at holiday parties.  When we volunteer to bring this dish to family gatherings, nobody even notices that these are any different than they're milk-filled counterpart.
Enjoy!
Cheesy Potato Bake (milk free, gluten free, vegan)
For extra crispy corn flakes, coat corn flakes in melted Earth Balance before adding to potatoes and increase oven temperature to 475 degrees F before returning to oven.
Ingredients
1 1/2 T. Soy Free Earth Balance
4 oz. Daiya Cream Cheese Like Spread
1 cup Daiya Cheddar Style Cheese Shreds
1/4 cup milk alternative
32 oz. frozen country style hashbrowns
1/2 t. salt
1/4 cup minced onion
1 1/2 cups cornflakes (optional)
Directions
In medium saucepan,combine milk, Earth Balance, cream cheese & cheddar like shreds.
Melt over medium heat, stirring constantly.
Stir in salt & onion.
Mix into potatoes and place in 13 X 9 casserole dish.
Bake covered at 350 for 90 minutes.
Uncover and top with corn flakes or additional cheese shreds.
Return to oven (uncovered) for an additional 5 to 10 minutes.
Nutrition Information:
153 calories, 6g fat, 2g saturated fat, 0mg cholesterol, 307mg sodium, 22g carbohydrates, 2.5g dietary fiber, 2g sugars, 3g protein
https://www.allergycookie.com/cheesy-potato-bake/
Copyright © 2014 Allergy Cookie. All Rights Reserved
Like this recipe?  Stick around and browse more of our top 8 free recipes, then subscribe to our site and join our social network so you don't miss anything new!