These caramels are mouth watering, chewy, and delicious!  You can eat them as they are, dip them in chocolate, or use them in other recipes. Enjoy!
Homemade Caramels (dairy free, soy free, top 8 free)
Ingredients
2 cups white granulated sugar
1 1/2 cups corn syrup
2 cups milk alternative, divided
1 cup Soy Free Earth Balance
1/2 t. vanilla extract
Directions
Line a 13 X 9 casserole dish with wax paper and set aside.
In a large saucepan, combine all ingredients except for 1 cup of milk
Bring to a boil, moving the pan a little to to mix without stirring
Add remaining 1 cup of milk
Continue to cook over medium-low heat, without stirring, but moving pan a little to blend.
Using a candy thermometer, continue cooking until mixture reaches 242 degrees F.
Remove from heat and pour into pan to set.
While caramel is still slightly warm, use wax paper to lift caramel out of the pan and cut into squares.
Wrap individually.
https://www.allergycookie.com/homemade-caramels/
Copyright © 2014 Allergy Cookie. All Rights Reserved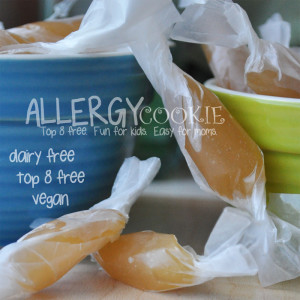 Like this recipe?
Check out our other top 8 free recipes then subscribe to our site and join our social network so you don't miss anything new!